GCAC Photo Page
Event #5 05/07/2000
---

Richard Bailey in his Factory Five Cobra having a blast with 310 horsepower (at the rear wheels) in a 1600 lb. car!
Richard was nice enough to let take a lap in the car! If you want a Cobra replica that runs as good as it looks, get a Factory Five Cobra!

Also in attendance with a Factory Five Cobra was John Phillips in his beautiful Viper blue Cobra. John has over 30,000 miles on this beauty already!

Robyn Pritchard in her 1997 Dodge Neon takes second-place in DS.

Kathy Bryce BSL with an excellent 71.977!

Donna Dinardo practices Saturday in her RX7

Warren Cooper in his 1979 Porsche 911 also getting some practice in on Saturday.

Bob Cowell practicing on Saturday in his Honda CRX.

Bill and Elliott Harvey brought their fast Datsun SRL 311 roadster over Saturday for some practice.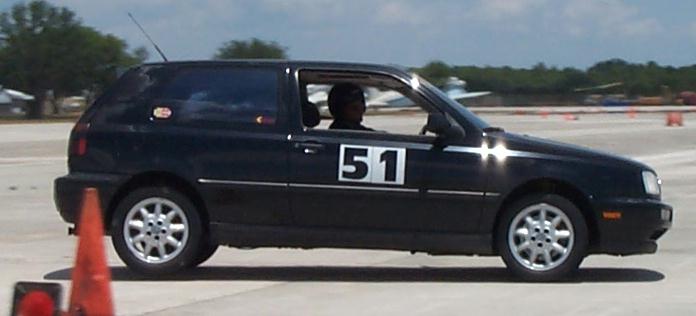 Jason Miner gets in some practice on Saturday in his Volkswagen GTI VR6.

Peter Van Dien getting more seat time on Saturday.

John Arruda practicing in his beautiful dark blue 1998 Z28.

Alan Alesi having fun in is 911 while the 914-6 gets worked on.

David Carson trying to shave more time off the practice course!

Dan "Magnum" Rash in his and Becky's recently acquired 1992 Miata.

Homer Clark trying out autocrossing in his 1993 Dodge Stealth.

Another nice picture of Richard Bailey's Factory Five Cobra replica.

Jeff Jacobs practicing in his 1999 Mazda Miata.

Jack Thorsen throwing his 1994 Honda Civic around the 180.

Deborah Rastin leaning into the curve in her 1982 Mazda RX7.

Peter Varga dialing in his 1983 ESP Ford Mustang for Sunday's competition.

Dick Kline practicing in his C4 Corvette convertible.

Bill Hiatt in his FM Formula V get in some practice on Saturday.

Ramsey Silva getting in some lap time in his Porsche 944.

And yet another shot of Richard Bailey enjoying his Factory Five Cobra replica.

Raul Iglesia running hard to get into the trophy position.

Sharon Till runs an 86.920 in FSPL.
Joel Lodes runs a respectable 78.719 in FS in his BMW sedan.

Mike Southard puts up a fight in BS with a quick 67.011 time just half a second behind first-place.

Rob Berntsson trying hard to get in the trophy position in Spec Racer Capri with a best of 78.454.

Jamal Mardini driving the Bmw M Coupe (modern-day Cobra) through the mile long course for best of 79.388.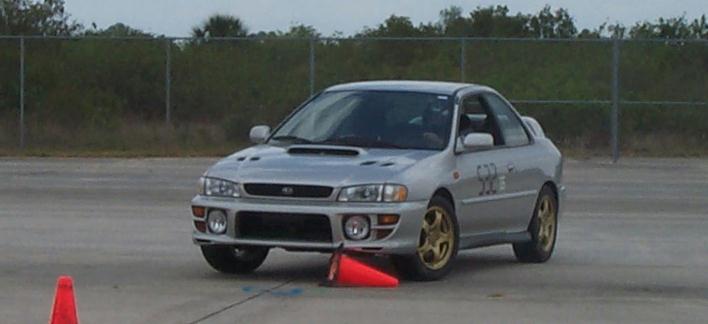 Neil Tovsen trying his best to run over the camera man (me!). Neil goes on to win GS with an excellent 71.729 run.

Armando Valdez runs a 77.908 to take third place in super stock.

Richard Beecher trying to get FTD of the event with a 66.890 blast in his Bavarian Missile Works M3. Darren DiSimo heads him off at the pass with a 66.603 in his Mazda Miata!

Joseph Kemives runs an 85.462 in the spec Racer Pinto. Is that light I see under the left front wheel?

Another FTD contender David Schnoerr in his Porsche 944 Turbo runs a 67.314.

King of Florida's Toughest Mile at least this month is Darrin DiSimo with an unbeatable time of 66.603 to win first place in BS and overall FTD of the event!

Olga Gomez runs an excellent 72.982 in CP to win second-place.

Ron Funk runs a 71.095 to win BP.

Thomas Mayo runs a 74.547 to win FSP.

Curtis Parker runs a 69.624 to win third-place in the highly competitive ESP class.

Jim Hayes takes fourth place in GS.

David McIlvanie runs an excellent 70.188 to take fifth place in the class that had times that stretched from a best of 68.250 to a 70.245 in six positions!

Ryan Murphy runs an excellent 69.651 to win DSP in his BMW.
See you in June!