GCAC EVENT PHOTOS 6/6/1999
Joan Clark in Steve Burger's 1986 Super Stock Corvette ran an excellent 79.034 to win Super Stock Ladies!

Ralph Schroeder in his Porsche 993 run a 78.756 in A Street Prepared good enough for second-place in the class.

Link Eveleth runs an 85.106 to win Street Modified.

Bill Newman in his Triumph Spitfire runs an 86.788 to win second-place in H/Stock
Allen Kozich Jr.runs an 81.276 to win C/Street Prepared.
Richard Alvino runs an 85.149 for second-place in the Spec Racer Capri class.
Seth Jacoby runs an 85.321 in E/Street Prepared.

Evan Darling in his Honda CRX runs an 85.414 to win second-place in C/Street Prepared.

Kathy Bryce runs an 88.814 in between learning the ropes in the timing shack.

This innocent looking Mustang LX runs a 78.073 in the hands of Raul Iglesia to win first-place in E/Street Prepared.
Mark Camille in his 1991 Corvette runs an 84.427 to beat out yours truly in B/Prepared.

Finally! Someone actually took a picture of me! Thank you Bryon!

Rich Myers runs an impressive 84.607 to win the spec Racer Capri class.

Britt Laughlin is all by himself in D/Stock but still runs an impressive 80.613 to uphold the Neon tradition.

Russell Lombardi runs the screaming yellow Fiero around the mile in 82.577 seconds in A/Prepared.

Dewey Harding tries to handle all that rotary horsepower with poor grip to run an 89.216. Later in the day Dewey had local hot shoe Evan Darling try out the car with a result of an 81 second run!

Rod Brooks in his IT RX-7 Mazda has a little trouble keeping on course but shows potential with a strong 85 second run!

Novice Michelle Walker shaves 10 seconds off her time in D/Street Prepared Ladies.

Mary Newman in her Triumph Spitfire takes third-place in H/Stock.

David Schnoerr in his Porsche Turbo 944 runs an awesome 75.997 just missing FTD of the event!
David Maslako in his MGB takes second-place in D/Steet Prepared with an 89.969.

Connie Kostrya runs a 90.370 in D/Prepared Ladies.
The sheriffs department checks us out!

Randy Pringle comes in third-place in C/Street Prepared with an 86.119.

Peter Van Dien takes second-place in A/Stock with an 83.589
Tom Carson runs an 88.956 to take second-place in an all novice B./Stock class.

Jim Grob and his Acura NSX run a 79.083 which gives him third-place in the tough A/Street Prepared class.

Scott Presti in his Eagle Talon Turbo All Wheel Drive runs an 85.663 good for second-place in G/Stock.

Richard Morrison runs a 84.663 in his Honda to take first place in H/Stock

John Cullen runs an excellent 77.253 to win A/Street Prepared.

Jim Warren has his share of troubles with cones and off course but runs close to the leaders times.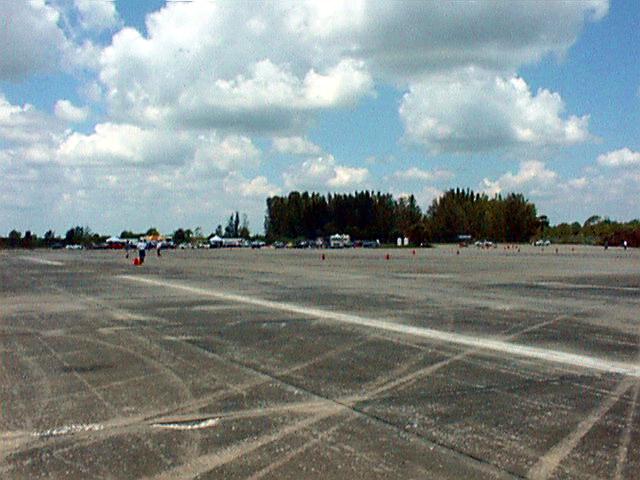 A look back at the pits from station 2
See you in September!